Classic Homes has been a leading local builder in the Pikes Peak region since 1989. For 12 consecutive years, readers of The Gazette and the Colorado Springs Business Journal have voted Classic Homes as Colorado Springs' Best Home Builder. Our reputation is a testament to our sincere and unwavering belief that quality, value and customer satisfaction must remain at the forefront in the process of delivering a home to our customers. Our selection of building materials, trade partners, and the dedication of our employees is driven by Classic's mission and value statements and the knowledge that we are not merely building homes, but that we are also building communities and creating new friends and neighbors in the process. As you tour our 2019 Parade homes, we invite you to look carefully at the craftsmanship and detail that our team of professionals builds into each and every home. There are three Classic Homes in the 2019 Parade of Homes. The Ashton ranch plan is located in Flying Horse, the Monarch floor plan is located in Wolf Ranch, and the 220 is located in Midtown at Cottonwood Creek.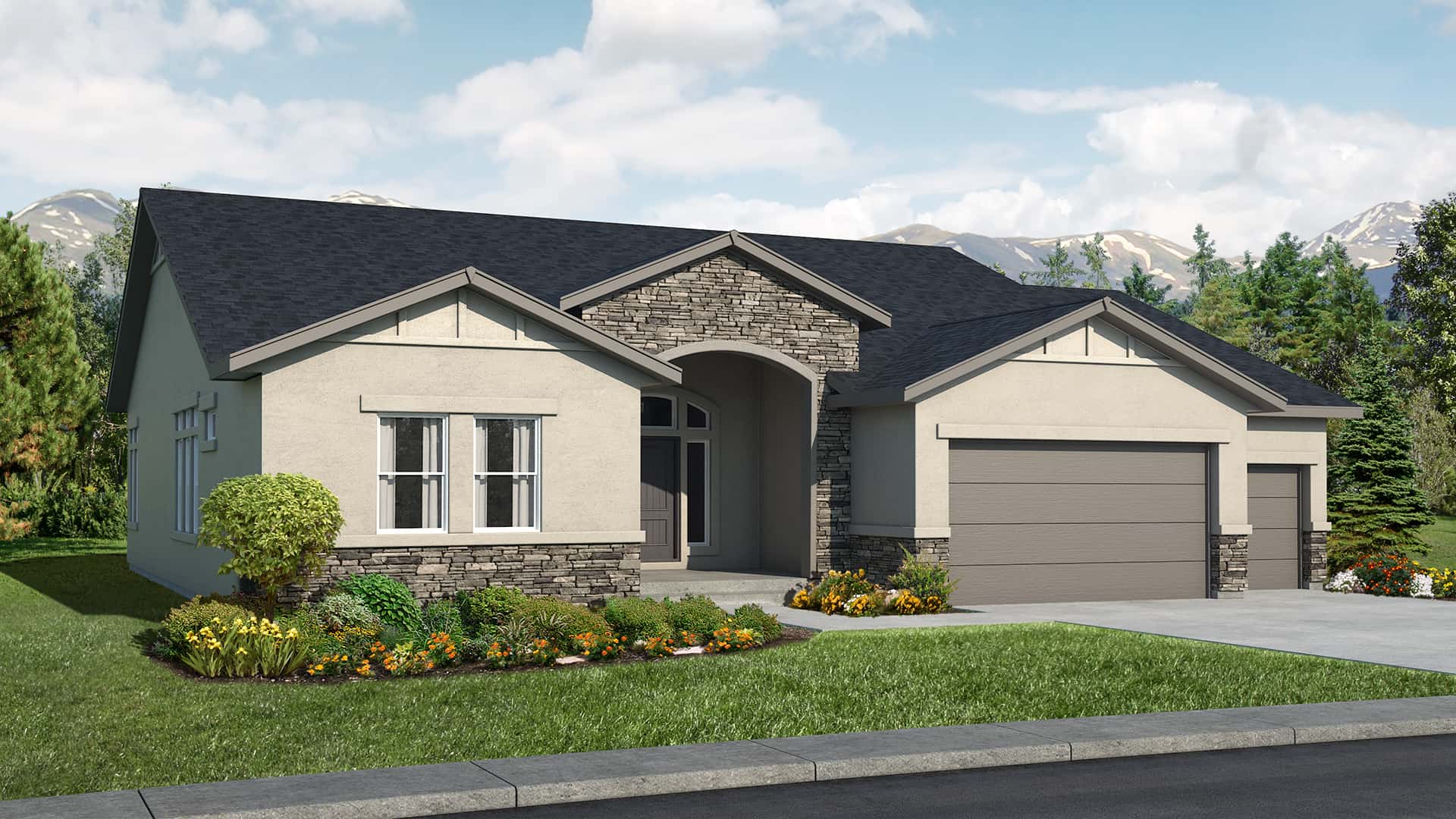 Ashton Smart House in Flying Horse
THE HOME
Through a very unique partnership with Colorado Springs Utilities, Classic Homes is thrilled to introduce its smartest Parade home yet!  Think sleek and timeless home design combined with smart home technology, then add water conservation, 7.2KW solar system, and new energy efficiency measures and you'll find yourself inside The Ashton in Flying Horse. From the soaring vaulted ceiling in the great room, spacious kitchen and formal dining room to the expansive master suite on the main level and the optional junior master suite in the lower level, it's easy to see why The Ashton is one of Classic's most sought-after home designs. The architectural attention to detail in this home is evident from the outside in, with a 140 SF covered entry and 12' sliding glass doors from the great room that lead to the 15×19 covered patio at the back of the home. The future homeowner will enjoy smart technology personalization of this home with Amazon Alexa smart components, Ring Smart Doorbell technology, Schlage smart lock, smart plug-ins, smart switches in the master, kitchen, master bath, rec room, indoor and outdoor cameras, motion sensing switches, Aquanta water heater smart control, Moen Flo leak sensor technology, and water wise landscaping.
THE INTERIOR DESIGN    
Classic Homes Design Studio and Cassidy Design bring modern elegance to a time-honored floorplan with a interior palette of black, charcoal, crisp white, silver and metallic tones, accentuated with deliberate pops of red throughout the home. From the gourmet kitchen to smart home technology, the interior design of The Ashton is smart, stylish and sophisticated. The home showcases modern designer maple charcoal, white and flint cabinets, contemporary matte black fixtures, and Palace Plank Armor flooring throughout the entry, great room, kitchen and dining room. As you enter the home, prepare to be wowed by the great room with expansive windows and fireplace with floor to ceiling ledgestone, herringbone center, and alder box mantel. The luxurious main-level master suite includes window shades powered by Amazon's Alexa and a large spa-style 5-piece master bath. The lower level of the home boasts a spacious recreation room with wet bar, junior master suite and two additional bedrooms.
Monarch in Wolf Ranch
THE HOME
Classic Homes is proud to introduce a fresh and modern look to one of our most popular 2-story homes. The Monarch is available in four decidedly different exterior elevations and the overall flow of the home represents thoughtful space planning for any lifestyle and home dynamic. It offers a minimum of four bedrooms and up to seven, up to 4.5 baths, optional study, formal dining room, spacious loft area, and large rec room. The main level includes plenty of room for large scale gatherings. Whether your home caters to a large and growing family or you're planning for guests on an extended stay, entertaining in The Monarch is a breeze with its open floor plan concept where the kitchen opens to the nook and great room and to the expanded partially covered deck. The master suite on the upper level is a relaxing respite complete with a spa-style master bath. What people enjoy most about living in this home is the way the home design maximizes square footage with an easy and seamless flow on all levels. The architectural details and overall design of The Monarch exemplifies a home that is truly designed for the way families live.
THE INTERIOR DESIGN    
Classic Homes Design Studio and Cassidy Design come together to present a clean, crisp and contemporary look with smooth tone-on-tone inspiration. The interior layout, finishes and textures in The Monarch gently guide you from one living space to the next in this thoughtfully crafted 2-story floor plan. Through the careful selection of light and bright finishes with modern accents, the attention to detail quickly sets the look and feel of refreshing, open and airy living. From the designer kitchen with farmhouse style white pewter maple cabinets and white quartz countertops to the clean backsplashes and tile work throughout the home, The Monarch showcases some of the most sought after interior trends of 2019. Designer-inspired accent walls and paint colors combined with textures and deliberate pops of color bring in the warmth of the Colorado landscape in Wolf Ranch. The seamless flow of The Monarch exudes classic space planning with contemporary flair.
MODEL SPECIFIC INFO
Interior Design: Classic Homes Studio and Cassidy Design
Kitchen Cabinets: Adams Maple White w/ Pewter Glaze (Level 1)
Kitchen Quartz Countertop: Alabaster White (Level D) discontinued
Bathroom Cabinets: Adams Maple White w/ Pewter Glaze (Level 1)
Wet Bar Cabinets: Adams Maple White w/ Pewter Glaze (Level 1)
Interior Paint: Egret White
Trim Paint: Extra White
Interior Door: Cheyenne
Door Hardware Accent: Brushed Nickel
Window Sills: Optional Wooden
Stair Parts: Package #2 Wooden square
Interior Stain: Brazil Nut
Kitchen Sink: Whitehaven Apron White
Kitchen Faucet: Bellera Pull Down, Vibrant Stainless
Lighting Package: Included Lighting Package
Carpet: Trenton Heights, Leisurely
Laminate Floor: Blacksmith Oak Steam
Wet Bar Countertop: Quartz Iced White (Level A)
Wet Bar Floor: Blacksmith Oak Steam
Master Bath Counter: Quartz Stellar Gray (Level B)
Master Shower: wall field tile Bedrosian Grace Sabbia
Master Floor Tile: Bedrosian Athena Pearl
Laundry Floor: Avondale Castle Rock
Laundry Countertop: Formica Neutral Twill (matte finish)
Bath #2 Counter: Quartz Frost White (Group A)
Bath #2 Wall Field Tile: Bedrosian Grace Bianco
Bath #2 Floor Tile: DalTile Cove Creek Gray
Bath #3 Counter: Formica Neutral Twill (matte finish)
Bath #3 Floor Tile: Avondale Castle Rock
Bath #4 Counter: Formica Neutral Twill (matte finish)
Bath #4 Wall Field Tile: Avondale Castle Rock
Bath #4 Floor Tile: Avondale Castle Rock
Powder Bath Counter: Pedestal sink
Powder Bath Floor: Blacksmith Oak Steam
Fireplace Great Room: Daltile Saverino Cernene Fog
Fireplace Rec Room: DalTile Brickwork BW01 Studio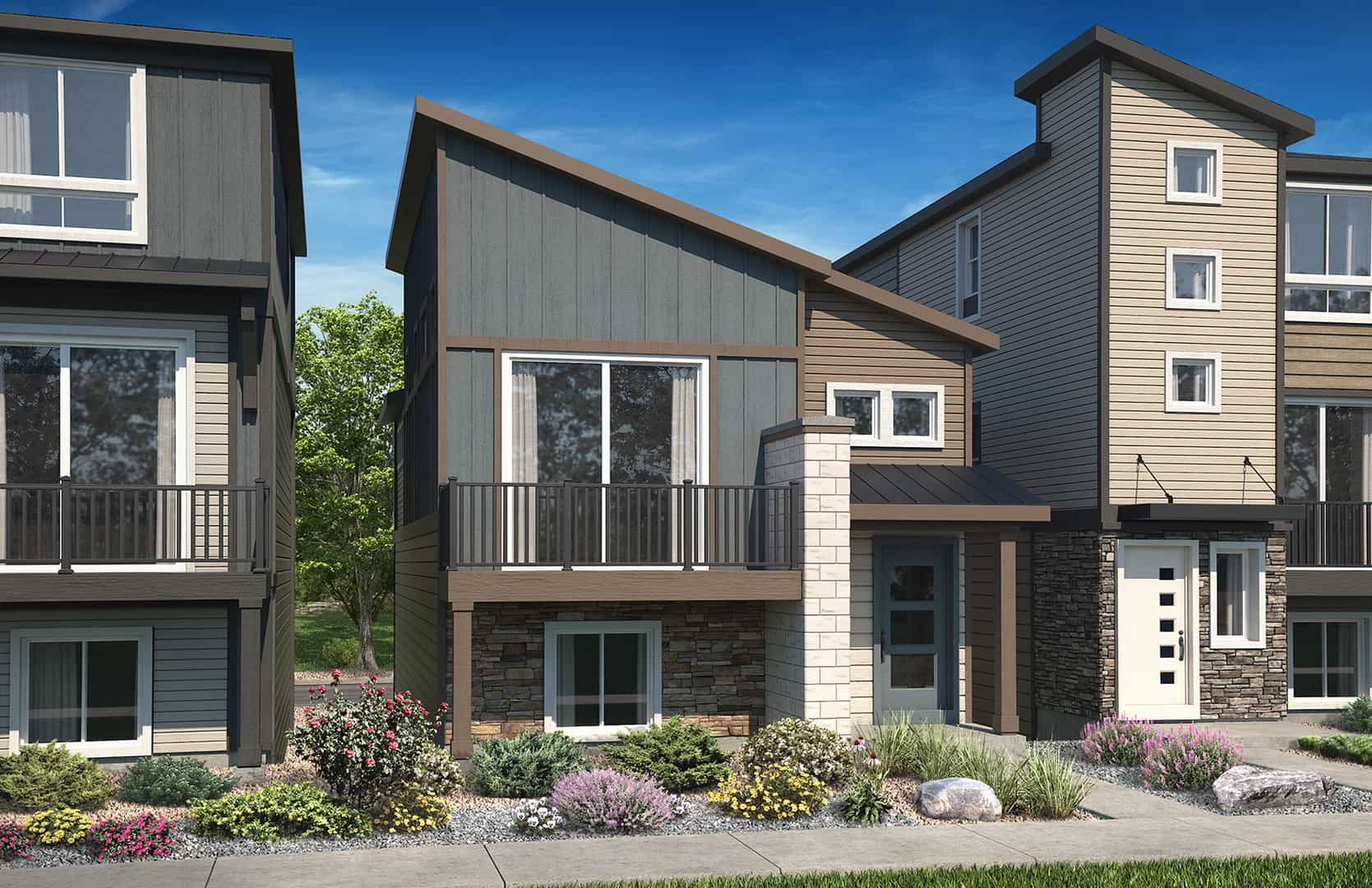 220 in Midtown at Cottonwood Creek
THE HOME
The 220 is one of five new urban-style home designs from Classic Homes' Midtown Collection at Cottonwood Creek. The 220 is a modern and ingenious approach to achieving smart and efficient home design within approximately 1,300 SF of living space. For those who have dreamed of building a new home on a small footprint, the 220 is a must-see. Expect the unexpected – upon entering the home, you're welcomed with an unexpected vaulted entryway and staircase that offers quick access to the 822 SF upper level or just a few steps down to the 422 SF lower level bedroom suite, which includes a private bath. The upper level of the 220 showcases an open kitchen and living room concept with a dramatic vaulted ceiling, adjacent to a spacious master suite with optional balcony. The attached 2-car garage in the back of the home and deck above the front entry makes for a contemporary streetscape. When you visit the Midtown Collection, you are greeted with modern and stylish exteriors, accentuated with a deliberate and classy mix of warm and cool exterior elements, from metal accents and railing to stone panels and interesting pops of color and siding.
THE INTERIOR DESIGN    
In collaboration with Cassidy Design, Classic Homes is proud to present The 220. The interior of this home is a beautiful sampling of the Midtown Collection's included interior finishes and products. The 220 demonstrates the opportunity for anyone to create a clean and stylish interior design, simply by maximizing Classic's included interior features and selections. The espresso cabinets, granite countertops, bathroom tile, modern chrome plumbing fixtures, light fixtures, and restoration laminate flooring are items that are included in every Midtown Collection home! In fact, the only interior selection options and upgrades you'll see in the 220 are the upgraded carpet and security system. The interior color palette conveys a warm tone-on-tone approach that accentuates the tall ceilings. Deliberate pops of color and rich wood, metal accents, and clean furniture lines, are highlighted by a welcomed natural light. The thoughtful interior design of this home accomplishes a smart and modern, yet cozy, look and feel.
MODEL SPECIFIC INFO
Interior Design: Classic Homes Studio and Cassidy Design
Kitchen Cabinets: Bayfield ­Oak, Espresso
Kitchen Countertop: Granite, Caledonia
Master Bath Cabinets: Bayfield ­Oak, Espresso
Interior Paint: Accessible Beige
Trim Paint: Extra White
Interior Ceilings: Accessible Beige
Hardware Finish: Dexter by Schlage – Corona
Window Sills: LivingStone, Icy White ­ L103
Stair Parts: Pony Wall
Interior Stain: Twilight Stein
Closet Shelving: Wire Closet Shelving
Gas Line: To Range/Cooktop
Side Extensions: Extended Master Bedroom
Carpet: Level 6, Blue Haven, Dreamy Taupe
Laminate Floor: Restorations Collection, Whiskey Mill, Char
Master Bath Counter: Granite, Caledonia
Master Wall Tile: Avondale ­10×14, Castle Rock
Master Floor Tile: Avondale ­12×12, Castle Rock.
Laundry Floor: Avondale 12×12, Castle Rock.
Bath #2 Counter: Laminate, Neutral Twill
Bath #2 Wall Tile: Avondale ­10×14, Castle Rock
Bath #2 Floor Tile: Avondale ­12×12, Castle Rock